10 years ago, wet rooms were surprisingly rare but since 2013 there has been a significant increase in popularity. Wet rooms are now seen as a stylish and modern way to make a bathroom look bigger as well as providing accessibility, but what exactly are they and why should you consider installing one?
Wet rooms are essentially shower rooms without the tray. The tiling on your shower floor will be the same as your bathroom floor, creating a sleek open-plan look. However, due to their unconventional nature, people have become worried they may cause problems, these are five of the most common myths about wet rooms and the truth behind them.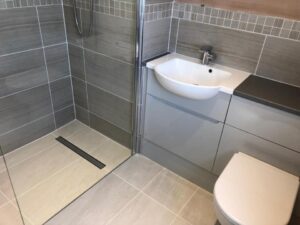 1. They Can Only be Downstairs
Due to the pressure of the water, many believe they can only be installed downstairs or leaks could arise. Although leaks can happen, this is not due to the location of the wet room but down to it being poorly fitted. Properly fitted wet rooms will be completely water-tight and waterproof, so they can be installed anywhere. It is essential to choose a professional company to complete the job to avoid future problems.
2. The Entire Room Gets Wet
When you think of wet rooms you may think of swimming pool showers because they are open plan but you may also think about how they get water everywhere! Imagining this situation can definitely put someone off but what people don't realise is that wet rooms have a much more sophisticated design. They are designed in a way to provide a luxurious experience while being waterproof and splash-proof, protecting bathroom appliances such as towel rails and toilet rolls.
3. Wet Rooms are Dangerous
It's logical to think that a completely wet tiled flood can be a recipe for disaster, causing you to slip and get seriously injured, however, there are precautions you can take to stop this from happening. Getting anti-slip floor tiles is a great way to prevent this, they are more textured so helps with friction under your feet. With the correct planning and professional advice, your wet room will be completely safe and arguably safer than a usual bathroom, since you won't have to step over or onto anything.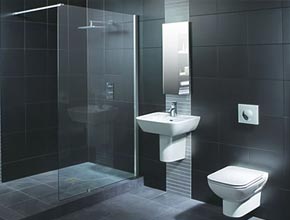 4. Wet Rooms Get Mouldy 
Due to the increased presence of water in the room, it has caused people to believe that it can increase the likelihood that mould will grow. While a wet room does provide ideal conditions for mould to grow, this will only happen if the room is poorly ventilated and the chances of mould growing are no higher than in a normal bathroom. You can avoid problems with mould by making sure there is proper ventilation, keeping shower screens clean and wiping excess water from walls.
5. Wet Rooms Reduce the Value of a Home
Some people may think that by removing a traditional shower or a bath can reduce the value of a home, which can put people off installing it. However, it can actually do the opposite since it provides accessibility to people of all ages while also adding a stylish and contemporary feel to a home.
Book Your Wet Room Consultation 
Although any renovation can come with its problems, the addition of a wet room won't leave you with any more. If you are interested in finding out more information about wet rooms or receiving a quote, contact us today on 01455 556 155 or fill out our online contact form.
---
Posted in News, Wet Rooms